'Simon is an excellent instructor! He is very friendly and understanding and works at your speed to help you improve your driving. He is open minded and happy to answer any and all questions. I couldn't have passed with anyone else!'
– Helena (November 2022)
'Simon made the whole learning process very easy and time efficient, helping me get through the process at a comfortable pace whilst leaving no stone unturned. Never felt apprehensive about the lessons as they were always friendly and felt like I had learnt something from it everytime. Many thanks Simon!'
– Joseph (September 2022)

'Before driving, I was nervous about getting behind the wheel. Simon was patient and reassuring, which built up my confidence. He was able to identify key issues and focus on these during the lessons. Simon is a great guy, with a funny sense of humour and a brilliant teacher'
– Alex (July 2022)

'I had a really good experience learning with Simon especially as I didn't have a car of my own to practice in. I still felt that I was learning really quickly and I really enjoyed the lessons!'
– Eleanor (April 2022)

'Simon has been an amazing driving instructor and I highly recommend him to anyone looking to learn. He creates a really comfortable and enjoyable atmosphere in his lessons and has taught me many key skills. He has definitely boosted my confidence in the car and has made me an extremely safe driver going forward. No matter how nervous you are Simon will always make you feel safe and I cannot recommend him enough as he made the whole experience enjoyable!'
– Toby (January 2022)

'I had a blast learning to drive with Simon, even if the lockdowns made it feel much longer. I started lessons anxious to drive but Simon was very patient, reassuring and gave me the confidence I needed to get behind the wheel. Not only did I feel really well prepared for the test but for afterwards too, driving in the 'real world' on your own which can be a huge leap if you have not been prepared for it.  You hear many stories of unfriendly instructors who don't have confidence in their pupils but Simon was not like this at all and I would absolutely recommend his lessons!
'
– Toby (September 2021)

'Learning to drive with Simon has been a really great experience. His guidance has been extremely valuable, and the friendly atmosphere he creates has made my lessons with him very enjoyable. I can tell that Simon trusts the abilities of his learners and this trust has really boosted my confidence with driving and undoubtedly helped me to pass my driving test. Whether you're a beginner, nervous to start, or have some experience under your belt, Simon will take you under his wing and make sure to assist you in becoming a confident and competent driver and I can't recommend him enough.'
– Michael (May 2021)

'Simon is truly an amazing driving instructor. He is always calm and will talk you through all aspects of your driving. Though he is a perfectionist, it's a very good thing and, I believe, produces the best, safest drivers. Thank you so much Simon for guiding me through this process, especially in these strange times.'
– Hannah (August 2020)

'Learning to drive with Simon was very enjoyable for me. His feedback on my driving was extremely helpful as it made me understand why my actions were good and bad and also made me aware of bad habits before I continued doing them. He was always there to answer any questions, both in and out of lessons, which boosted my confidence in my decision making out on the roads. I would thoroughly recommend his tuition to anyone who is looking for a driving instructor'
– Callum (January 2020)

' Thank you for helping me, I really enjoyed the lessons, they were very informative and helpful. I had a laugh. I was very under confident and was worried about driving, thank you very much.'
– Alfie (November 2019)

'Yesterday (16th September) I qualified as an ADI. When I started my training I met Simon on a course about the new Standards Check/Part 3 exam. He was local to me and my tutor (my husband) and he had often seen our tuition vehicle around. Simon offered to let me sit in on some of his lessons and what an amazing instructor he is! So approachable with a friendly teaching style. I learned so much from him and I've incorporated some of his hints and tips into my own lessons. Since then we have recommended him when we haven't been able to take a pupil on or they are nearer to Farnham. Thank you Simon for being part of my learning process and I'm sure we will see you soon!'
– Pamela (September 2019)

'I would definitely recommend learning with Simon if you're looking for a patient, thorough and friendly teacher who will do everything he can to help you become a great driver. Everything was explained well and I could ask about anything I was unsure about. Thanks to his lessons, I now feel confident going forward with my driving!'
– Zach (September 2019)

'Learning to drive with Simon has made it a thoroughly enjoyable experience for me. As someone who was originally quite apprehensive, his patience and calm attitude really boosted my confidence and made me feel at ease in every lesson. He really goes the extra mile to help you in any way possible and teach you to be the safest driver you can be!'
– Natalie (September 2019)

'It was great learning to drive with Simon. His calming and patient manner gave me confidence in my driving and I came away from each lesson feeling positive and looking forward to the next one. Simon is flexible when booking lessons, always working around what suited me. I would highly recommend to any new driver – I passed first time!'
– Max (September 2019)

'Before starting lessons with Simon I found driving to be really challenging. But with his patient teaching and good sense of humour I was quickly able to calm down and focus. He taught me to drive safely and confidently. I can't recommend him enough!'
– Ella (August 2019)

'I have really enjoyed learning to drive with Simon, and I would recommend him to anyone who wants to learn to drive! I was really nervous when I started but Simon was so friendly and encouraging and really patient with me, helping me overcome my anxiety and pass with ease! He is such a lovely and friendly person I always looked forward to my lessons. I am now a happy safe driver thanks to Simon!!'
– Vikki (August 2019)
'I've really enjoyed learning with Simon over the last couple of months after transferring to him from another teacher. His encouraging and friendly attitude has helped increase my confidence as a driver and allowed me to pass first time. A few of my friends have also passed their test with Simon as their instructor and I know that they would say the same. I would happily recommend Simon to anyone learning to drive. '
– Chris (August 2019)

'I have thoroughly enjoyed learning to drive with Simon! He has such a friendly and reassuring nature and I looked forward to my lesson every week. He has made me a confident and careful driver and I owe my first time pass to him!!'
– Abi (February 2019)


'I passed 1st time. Booking lessons was easy and flexible. Simon helped me to learn at my own pace and gave me confidence. I would thoroughly recommend him to anyone learning to drive. Thank you.'
– Phoebe (June 2018)

'For me? Hands down the best instructor in the Farnborough area. Helped me to pass quickly and safely as well as giving me extra tips and advice on driving that's not usually given. Affordable, honest and above all a genuinely nice bloke'.
– Ian (May 2018)


'I really enjoyed my lessons with Simon, he made every lesson effective and enjoyable – I would recommend him to anyone learning to drive. I felt really confident going into my test, all thanks to his great teaching!'
– Rosie (April 2018)


'Good driving instructor who always turned up happy and welcoming. Helped me to learn quickly and make me a safer driver. Always keen towards me not wasting time. Cheers.'
– James (November 2017)

'A month ago I passed my driving test, first time, thanks to Simon. Since then, because of work, I've spent the last few weeks driving at all times of day and night up and down the M25 and in London … and loving it! There is absolutely no way I would have been a confident and safe enough driver to do this had I not learnt with such a patient, calm and thorough instructor. Simon is a fun, encouraging and very knowledgeable teacher who tailors each lesson to suit you – challenging you enough to guarantee confident progress but always keeping you safe and relaxed in the car. He even helped me with my theory, giving me free access to Theory Test Pro. He is also a lovely and friendly person, we would always have a laugh which always made me feel relaxed and confident even if we were working on something more difficult. If you want the best instructor in the area … I cannot recommend Simon enough to you!'

– Daisy (October 2017)
'I learnt with Simon in a really fun way. I would recommend Simon to anyone wanting to become very confident behind the wheel because that's how I feel now.'
– Fergus (October 2017)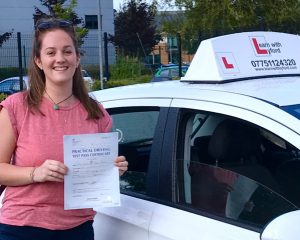 'Having previously learnt with a different instructor driving was something I found scary and daunting. Simon made driving become enjoyable and now I feel so confident behind the wheel. I couldn't recommend him enough to any learner. He makes you feel relaxed and confident in your abilities whilst teaching you everything you need to know to be a good, safe driver. I can't thank you enough Simon!'
– Laura (September 2017)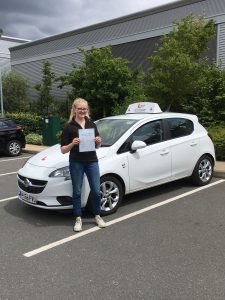 'I have had a fantastic experience learning to drive and could not have hoped for a better instructor than Simon. By the time I passed my test I was confident and felt very safe in the car. I would recommend Simon to any learner driver.'
– Amy (June 2017)


'Simon was a really great teacher! By the end of my lessons I felt I was a safe and confident driver. The pace and style of the lessons was perfect and I would happily recommend him to anybody.'
– George (May 2017)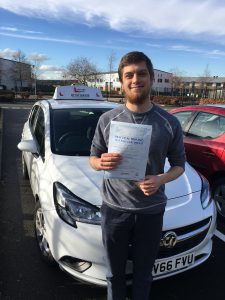 'Simon is a fantastic teacher. He's very down to earth and flexible. I felt Simon was very knowledgeable, while his relaxed approach and sense of humour meant I was never stressed. Would definitely recommend to a friend. I passed first time with only two minors!'
– Andrew (Feb 2017)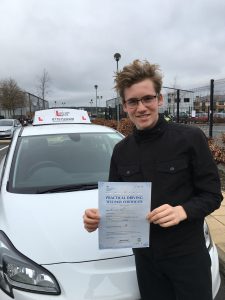 'I enjoyed my time learning with Simon immensely. He was very patient while being good company and helped me to relax during lessons. I would definitely recommend Simon to any new driver in the area.'
– Harry (Feb 2017)